Bright Programme - Improving the carbon footprint of real estate
Energy use constitutes a major environmental and economic impact in Sonae Sierra's shopping centre portfolio. But whilst the centres have similar energy systems, comparing their actual energy consumptions and defining their optimal energy performance is a complex task. It was to this effect that Sonae Sierra developed Bright.
Bright is an innovative energy efficiency programme designed to reduce the energy expenditure and improve the carbon footprint of real estate assets across the world. The programme is delivered in five distinct phases. It begins with an examination and modelling of current energy use, followed by the delivery of recommendations for improvements and the benefits they would bring. Tracking installation, comprehensive monitoring and energy management solutions ensure measures continue to perform at their optimal level.
With Bright programme, Sonae Sierra took a step into the unknown. It looked beyond theoretical benchmarks to engage with the actual energy consumption of its assets and set in motion a process to achieve tangible, appreciable economic and environmental gains.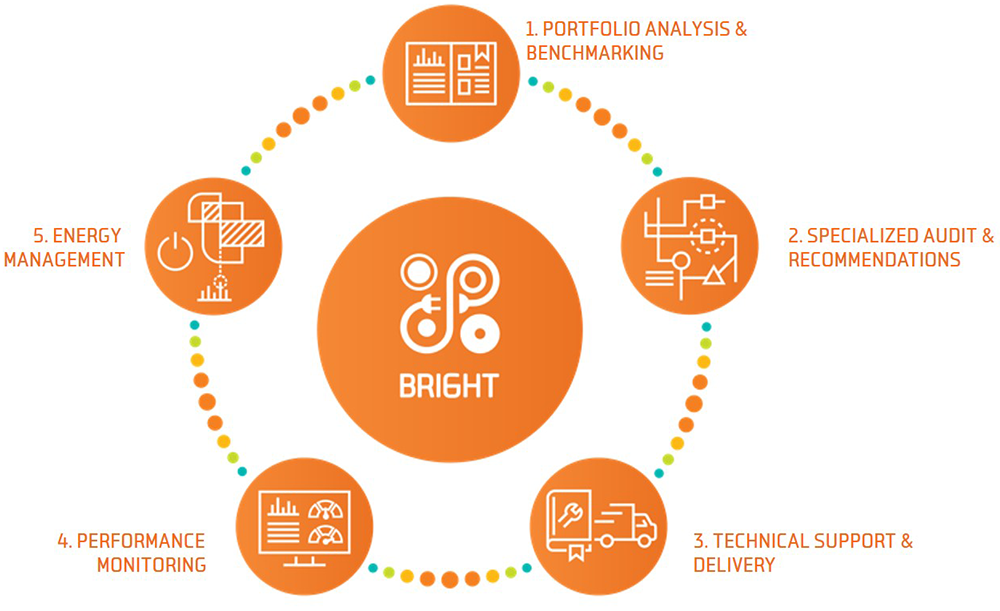 What started as a process of fine tuning, an internal benchmarking tool ended up unveiling a huge potential to improve energy efficiency and reduce costs across our portfolio.
In terms of results, our potential yearly savings to date arise to 19000 MWh in electricity consumption, equivalent to €2.4 million and represents 11% of our 2017 annual electricity consumption.
182 actions were implemented in 28 of our sites, with an investment of €2.3 million. 69% of the actions were quick-wins with no or little investment requirements from the sites: €300,000 invested generated €1.4 million, 59% of all potential savings of the programme.
In terms of CO2 emissions avoided, it equates to 4% of our 2017 Carbon Footprint (around 1000 tonnes CO2e). Since we use green electricity contracts in many of our sites (with no carbon emissions), if taking into consideration average country grid electricity emissions, it would have equated to 29% of our 2017 Carbon Footprint (around 9000 tonnes CO2e).
What makes Bright so different is that it takes a holistic approach, looking at every aspect of a real estate asset operations - from building and energy systems, to the behaviour of the people using it and region-specific factors. By examining real data, the model facilitates maximum return on investment, both on an environmental and financial level.
From transforming the green credentials of global real estate, to generating financial savings in both the short and long term, the future of real estate looks Bright.