Coaching young farmers
"There are challenges in the dairy industry at the moment. It's not all sweetness and light".
George Brown, it seems, is given to understatement.
The 25 year old farmer's herd grazes on some of the most breathtaking landscape in Britain. The pastures of Cairnhead Farm in Britain's Eden Valley are home to over 400 cows, producing over 2 million litres of milk each year.
But neither the bucolic surroundings nor Mr Brown's youthful looks can hide the fact that he has already experienced some of the struggles familiar to UK dairy farmers.
More than 60% of the country's dairy producers left the business in the last 20 years. A big part of the reason: over those two decades, the average price of a litre of milk has risen by less than two cents at the supermarket.
Sweetness and light, it certainly isn't.
Which is why it is vital that the food and beverage industry supports its most promising young farmers – the next generation who will guide it through these challenging times.
Positive outlook
Exuding optimism and energy, George Brown certainly fits into that category. While he knows that life in the dairy industry is not easy, he believes it still has plenty to offer.
"The skills required are much broader than they used to be, the academic and technical sides are essential. Farming has changed and the old stereotypes are no longer true. There are fantastic careers to be had in practical farming."
Helping him rise to the challenge is the Next Generation Dairy Leaders Programme. The scheme, developed by Nestlé and
First Milk, aims to identify, nurture and develop the next generation of dairy leaders. They are the so-called 'agripreneurs' whose innovative thinking and vision will help shape the industry for decades to come.
The two year programme focuses on a small group of the most dynamic young farmers within the First Milk cooperative whose herds supply Nestlé's factories in Girvan in Scotland and Dalston in the Cumbrian region of the UK.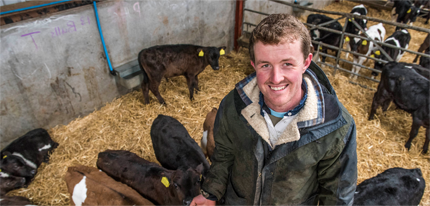 Practical experience
The Next Generation Programme coaches young farmers on dairy industry politics, advanced farm management, financial management and effective communication. All help the farmers of the future to build the practical tools and confidence to step forward and take a lead.
Farmers on the scheme have also visited Nestlé factories and retailers to learn about the supply chain. One young farmer even won a competition to visit Australia and learn more about the dairy industry there.
A better perspective
George Brown, whose milk supplies Nestlé's factory in Dalston, says the scheme has given him an understanding of how his herd can deliver produce of the highest quality whilst staying as competitive as possible.
"It's very easy when you're on the farm to get bogged down in what the cows are doing, what the grass is doing and whether the sun is out. The programme helps to put everything into perspective and gives us a better outlook. Nestlé helps us focus on what we can do to help ourselves and cut out inefficiencies."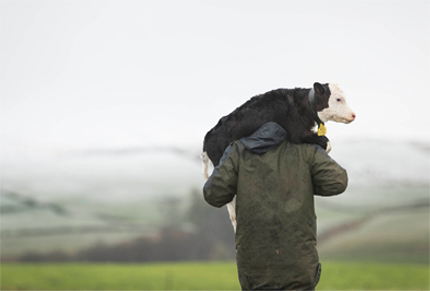 Sustainable farming
The programme forms part of Nestlé's long-term partnership with First Milk to improve the sustainability of their farms and develop a more sustainable and efficient supply chain with lower environmental impact.
"This initiative is even more important taking place as it does against a hugely challenging context for UK farmers," says Mike Gallacher, First Milk's Chief Executive. "It is critical that our future farmers have the best possible training and development so they can step up and compete in what will be an increasingly global and competitive future."
It clearly takes plenty of skill and bucket loads of self-belief to commit yourself to a career in dairy farming in the UK. For George Brown, though, there is no question it is where he wants to be. So why does he do it?
"You could take away every other sector and you would still need to make food," he says. "If you took away the farming sector then the whole world would come to a halt. Why would you want any other job?"